Ambassador of the Year
Awarded to an ambassador who goes above and beyond to help with Chamber events, welcome new members, and contact existing members. The Ambassador of the Year is someone who is not only involved in the RHBC Chamber, but also in the Bryan County Community.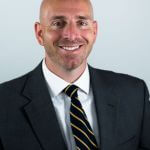 2022 Ambassador of the Year
Mike Rubiffo
Richmond Hill Neighbors
Business of the Year (Small and Large)
Presented to a company that has achieved success in its business through growth and quality performance, innovated efforts, and active participation in the community. All nominees must be owner, partner, or major shareholder of a business in Bryan County. The business (owner) should act as an advocate for his or her trade by participation in trade associations and community activities, as well as serve as an ambassador for small, local business owners. Companies must have been established for a minimum of three years, active and current member of the RHBC Chamber, with 10 or fewer employees and/or sales not exceeding $5 million for the small business of the year. For large business of the year they must have either 11 or more employees and/or more than $5 million in sales.
DeVaul Henderson Community Service Award
Periodically, the DeVaul Henderson Community Service Award is given to a civic-minded person who has made a positive impact on Richmond Hill/Bryan County. It is named for the late DeVaul Henderson, who was known for his commitment and contributions to the community. The award is not given every year, but is reserved for a nominee everyone deems worthy.
Recipient must be a RHBC Chamber member with county-wide and state involvement with a positive attitude and innovative ideas. Service/contributions should be on a broad scale. Recipient should be a team player of the highest integrity. He or she should be passionate leader that is, reliable, trust worthy, sincere and selfless.
2022 DeVaul Henderson Award Recipients

Distinguished Public Service Award
Recognizes an individual or non-profit company that is a member of the RHBC Chamber, who has worked in the public sector to bring positive change to his or her community at the local level. Award recipients have devoted a large portion of their lives to serving others, professionally and privately, not because they expect something in return; not because they think it will improve their reputation; but because service is so deeply ingrained in their identity, so profoundly a part of who they are. This awardee must display the ability to appreciate people and prioritize community; it's a recognition that ambition and hard work are virtues to live by, and that great success is also rooted in humility and generosity.